Romeo & Juliet OST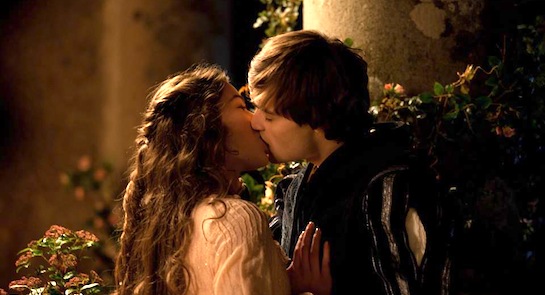 ROMEO & JULIET (Original Motion Picture Soundtrack) by Abel Korzeniowski has been released by Relativity Music, with worldwide distribution by Sony Masterworks. It is available on iTunes and Amazon today!! CD will follow.


A Note from Abel
Their vows and promises, relentlessly exchanged, over and over again, like returning choruses of an endless love song – when Romeo and Juliet talk to each other, it already sounds like music. At some point the extraordinary words serve their purpose no more and rational meaning becomes irrelevant, and then… we can truly feel.
My score is about that love story. I did my best to forget how it ends, to really focus on the sweetness and agony of each moment as it is unfolding. In Romeo and Juliet, life and death serve merely as useful props, points of reference, eventually overcome and readily abandoned. It's a triumphant song of love reaching eternity.


Track List
01 Juliet's Dream
02 Forbidden Love
03 Queen Mab
04 The Cheek of Night
05 First Kiss
06 Trooping with Crows
07 A Thousand Times Good Night
08 Come, Gentle Night
09 Wedding Vows
10 Fortune's Fool
11 From Ancient Grudge
12 Death is my Heir
13 Tempt Not a Desperate Man
14-15 The Crypt
16 Eternal Love
October 2013
Comments
23 Responses to Romeo & Juliet OST
October 13th, 2016 at 6:32AM by Sepide:


Pleas more uploade about Romeo & juliet .
Your music is really wonderful .it makes me feel good .

July 16th, 2016 at 4:19PM by Catherine:


Abel Korzeniowski, I am only 14 but I absolutely love your work! It suites the movie so well!!!!!! Please upload more songs!

November 11th, 2015 at 10:36PM by Salina:


Abel Korzeniowski you are amazing and such a talented person I do the best to thank you. I'm only 15 by the way

November 11th, 2015 at 10:30PM by Salina:


When I heard the music from the movie Romeo and Juliet my feelings were changed, my heart melted to the sensation of this inspiring music.I couldn't help but shed a tear. The movie had such a good story line and good actors and actresses who played very well. Such a beautiful story yet so sad .

November 11th, 2015 at 10:24PM by Salina:


You are very intelligent person for making such a wonderful and beautiful piece of music

September 8th, 2015 at 2:10PM by Miriam Morosini:


Is it possible to receive some info about the lyrical female voice on "The Cheek of Night" ?????

Does she own some single work or songs ????

Could someone please give me the ropes on how to know more about her ???

Regards,

Miriam

August 5th, 2015 at 8:35PM by Andrea:


Can you please publish the entire score for piano solo? I really really really want to play this on the piano. It is so lovely. Thank you so much for composing it!

July 12th, 2015 at 10:17AM by Louisa:


Will the sheet music for "Juliet's Dream" also be published? I would love to play that song on the piano!

June 14th, 2015 at 10:02AM by AK:


I will publish it on this website. Not sure how soon, but it's on my todo list.

June 14th, 2015 at 9:34AM by Helen:


Does anyone have piano sheet music for "Come, Gentle Night"?
Thanks!

May 13th, 2015 at 9:22PM by Trevor:


The Best Romantic and Touching Movie in the World,Keep up the good work,I Learned lot of things about Love in this Movie,I'm a Huge fan of this Movie.

April 29th, 2014 at 12:08PM by Heba:


amazing.for once im actually sturck by words.your so talented, every picture is amazing.and i am not just saying that.must see romeo and juliet again, last time I saw it my DVD player broke …please please visit my blog -www.beautiful-rampage.blogspot.comsophie x

March 30th, 2014 at 9:20PM by MinZhang:


I love this OST, in fact it's first reason I want to see the movie. But after watched movie I'm little upset, the acting is bad the cutting is bad (comparing to the 1968's version of R&J).
And personally I don't like your music being used in movie. Your music is good , I know the Romeo & Juliet , I can just imagine the pictures of the story just listen to your music …but just don't feel right watching the movie, following are my opinions and some doubt:
1st , the whole album is a bit too fast, the movie itself has quick a lot romance moments in it, in those moment the music should be really romance.
2nd, it's about track4, 'The Cheek Of Night'. In the movie it's used in masked ball . Since it's a ball , the musci should be pleasent and happy (no matter what the story is), but I thought the music is really negative and sad
3rd, the order of the tracks, why did you (or music producer) make the first track be Julie's Dream, the music used in cast, I thought the OST's track order should be the order appears in movies (if the track is the summarize of the movie, then it more should be the last track of the movie). PS, Julie's Dream is the most favourite track in the OST, It is like a dream (slightly delight dream becoming sorrow)and it's a good ending for the movie.
finally, this ost makes me remind of Philip Glass's 'The Illusionist' ,pretty similar, both sounds mysterious. only the movie 'the illusionist' is a mysterious story.

I'm sorry for being so directly.
best regards
a music lover

March 22nd, 2014 at 1:03PM by Mehreen:


Monsieur
Your music is the stuff of dreams. Your work from W.E and A Single Man is heart wrenching and exquisite, I discovered your work by accident and since then have been doggedly attempting to collect every piece since the country I live in does not make it available.
Selfishly I hope you continue such endeavours for years to come and that you are more widely appreciated as you deserve.
Merci'

March 11th, 2014 at 8:54AM by Mercuzio:


I'm amazed by your soundtrack Romeo and Juliet. Is it a full orchestral score (notes) available? I'm interested especially in the tracks with the lyrical themes (n°2, 7, 9, 16).

All the best

Mercuzio

February 8th, 2014 at 1:03AM by Ian Wood:


What a fantastic film score to accompany a very passionate and powerful version of Romeo and Juliet. Beautiful and haunting.

January 7th, 2014 at 11:03PM by stephaniechibi:


WHERE CAN I FIND THE SCORE FOR THIS AMAZING PIECE?

December 15th, 2013 at 10:26PM by Pam:


LOVED this score but am desperately trying to find a c/d of it. Has it not been made yet?

December 12th, 2013 at 1:00PM by Grzesiek:


Po prostu, urzekająco – wzruszająco – poruszająca muzyka.

Moja podróż z "music, made by hand" rozpoczęła się od zasłuchiwania się w Gwieździe Kopernika, przez zanurzanie się w dźwiękach Samotnego mężczyzny, aż … dotarłem tutaj, do Romeo i Julii. Dziękuję za te wszystkie emocje, które wyzwala Pana wyjątkowa i niepowtarzalna twórczość. Jestem dumny, że pochodzę z Krakowa :)

Two words – absolutely breathtaking.

November 23rd, 2013 at 10:12PM by Lauren:


Absolutely LOVED Romeo and Juliet and this music accompanying every scene just moves the whole story in the most beautifully, romantic tragic way. I can see every scene in my head and was dying to get the soundtrack CD asap. One of my happiest days in awhile when I finally got in the mail. Fantastic. All of it. Just really, really gorgeous. It's KILLING me that I can't have the movie yet so I can see all the scenes with this music again. Just really, it's all so flawless.

Now only if there was sheet music for my flute, so I could play along with it…

Again, great work! Love it so much. Have been listening to it nonstop since I got it.

November 12th, 2013 at 9:22AM by L Johnson:


Was looking thru my Spotify acct to find a Shakespere play to listen to and happened upon your score to Romeo and Juliet. What a gorgeous work! I found myself googling you to see what else you have done. Hope that you will write more movie scores! I wish I had the connections to get you more work but alas I am just a lowly elementary school music teacher with a discerning ear! Thank you for the music!!!

November 2nd, 2013 at 5:41PM by admin:


Dear Gerald,
I understand your frustration with the delay. I didn't get any copies for myself either. Regrettably, I have no control over the production and distribution of the soundtrack. I suggest that you contact the record label directly (Relativity Music).

with regards,
Abel Korzeniowski

P.S. I took the liberty of removing your duplicate post.

November 2nd, 2013 at 3:25PM by gerald gurka:


Weeks ago, I had ordered the cd version…and am still waiting for its release. True soundtrack collectors, like myself, find this insulting…we do not want a digital only release nor a digital booklet. Thank you for a speedy CD release.
Reply