A Single Man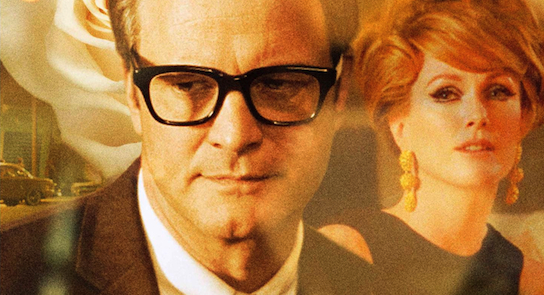 Synopsis
Set in Los Angeles in 1962, A Single Man is the story of George Falconer, a British college professor (Colin Firth) who is struggling to find meaning in his life after the death of his long-time partner, Jim (Matthew Goode). We follow George through a single day, where a series of encounters, ultimately leads him to decide if there is a meaning to life after Jim. George is consoled by his closest friend, Charley (Julianne Moore), a 48-year-old beauty, and is stalked by one of his students, Kenny (Nicholas Hoult).

Abel Korzeniowski about the score
A Single Man, A Single Theme

The score for "A Single Man" revolves around a single melodic theme. It slowly grows with the story, and eventually, in the last sequence of the movie, we are presented with its complete, final form. I named the theme "Stillness of the Mind", after George's moment of the final transformation. From the cocoon of despair and self-destruction, emerges a butterfly, living and understanding his life to the fullest, if only surviving for one day.

Strings and Scotch

I wanted something simple and pure, relying on melody rather than excessive orchestration, so I did it the old-fashioned way — with solo violin and strings. Their warmth and intimacy always moves me. Later on, I added a couple more colors to support the dramatic narration. There is a scene with George emptying a 20 year old bottle of North Port Scotch. For some reason this image stuck in my head and I ended up using a bottle of Scotch as a percussion instrument in the score.

Earthquake

Sir Alfred Hitchcock once said that "a good film should start with an earthquake and be followed by rising tension". Tom wanted exactly that, only with a thrill of passion and beauty instead of fear. So the movie starts with this incredible underwater image of a naked man, who, we can't be sure, is either drowning or dancing or locked up in a dream. For this scene, Tom asked for music to be of exceptional beauty and strength, something that would overload our senses with the complexity of its emotion reach. The piece I wrote has a lush, extremely romantic melodic line, stylistically suspended between the past and the present. After that, we only proceed to get deeper and deeper into the mind of Professor Falconer.

Critics about the score
simply genius
[The] score from composer Abel Korzeniowski is a highly worthy piece of art in its own right.
Korzeniowski's new score for Tom Ford's A Single Man is destined to become a film music classic. The Polish composer combines pulsing post-minimalism and elegant neo- romanticism with bright melodies, lush orchestration and warm colours (notably harp, piano and solo violin) to create a dazzling and dramatic score of extraordinary power and beauty.
But by far, the BEST score of the year is Abel Korzeniowski's for A Single Man. It is a brilliant score that reminds you of classic cinema yet has that modern twist to it at the same time. The score is a part of the story and it speaks the mind of Firth's character in the film. It is one of the most beautiful scores in film history and truthfully deserves to win. I believe it is a lock for a nomination and it even has a Golden Globe nod to support it too. If you haven't listened to this score yet then you must really soon!
This is the type of score that can make you fall in love with film music.
The score was a character of its own. A mix between opera and classical, Abel Korzeniowski made a score that climaxes right when the movie does and seems to have a running commentary throughout the film.
A breathtaking piece of music, one that sticks in your head throughout the film, and stays in it long after. It feels like a piece of yearning, as if it's the emotions in George's head playing out in music rather than bodily expression.
Abel Korzeniowski's unbelievable gorgeous, string-laden score, so beautifully complimenting Ford's images and emotions it seems to flow off of the screen and slide across you like a sheet of velvet.
The biggest highlight of the film is the score by Abel Korzeniowski. The way the music swells and interweaves in and out of the scenes were so good.
Abel Korzeniowski designed a magnificent orchestral accompaniment to this emotionally gripping film. The final minutes of the movie nearly brought me to tears. In fact, I actually had a physical knot in my stomach for a while outside the theater. And I owe a lot of that to the music.
Abel Korzeniowski's hypnotic score soars around us like a turbulant sea in a dream occasionally drowned out by a pounding heart.
The film's brilliant use of sound and magical string score (by the Oscar-worthy Abel Korzeniowski) help propel the film's stirring images.
Music = stunning.
(…) I also absolutely loved the score by Abel Korzeniowski – flawless and haunting.
Stunning!!! Amazing!! *****
This score brings back the golden age of music for cinema (…)
I haven't found a film score in the last 10 years that echos the feelings that this does!
The music, woven seamlessly throughout the film by Polish composer Abel Korzeniowski, was a character all its own. The classical sounds were classy, yet not stuffy.
it [the movie] has two secret weapons: original music by Abel Korzeniowski, and British actor Colin Firth.
Abel Korzeniowski's score celebrates strings to a dreamily nostalgic degree as the film tracks a day in George Falconer's (Colin Firth) life eight months after the sudden death of his partner Jim (Matthew Goode). It's classical, but tie-loosened and unstuffy, filled full with moments of sweeping sorrow and triumph.
Ford's appeal to the senses includes a stunning soundtrack by Polish composer Abel Korzeniowski, and the way the visuals and the music work together to prime you for the emotional core of the film reminds me of Wong Kar Wai's In the Mood for Love. (…)
In fact, the film is a paean to lost love, with Korzeniowski's music tugging at the heartstrings.
… a suspenseful, dramatic power worthy of Bernard Herrmann for this achingly gorgeous score by Polish composer Abel Korzeniowski.
… emotionally raw, string-heavy sound with a score whose infinite beauty seems tailor-made for the impeccable sensibility of MAN's fashionista writer-director Tom Ford. For even if his hero has a love that dare not speak its name, Korzeniowski's strikingly poetic work isn't afraid to shout that passion to the heavens.
Gorgeous music score, the year's best.
There is such a polished sound and flow to it that I think you will find yourself fully absorbed with the music. You'll also find that it's the type of score that is difficult to stop listening to; I was intent on listening to it uninterrupted from start to finish both times I cued up the disc. Truly engaging and quite refreshing fare!
As award season nears, Abel Korzeniowski should be in serious contention for a Best Score bid for A Single Man. This score functions at too high a level to ignore and I think the voters should pick up on that.

Final Score 9.5 out of 10: A Single Man is an accomplished piece of work that should appeal to even the most casual of soundtrack listeners. It's a captivating score that has a beauty about it that is difficult to dismiss once you start listening to it. Don't be surprised by the nominations that it may earn.
Accompanying these moments of slowed-down contemplation is the magnificent score by composer Abel Korzeniowski, which makes even the most seemingly mundane sequence of shots essential and heightens the dramatic meaning of every moment. It is certainly one of the best scores of the year, and without a doubt the most unique and original composition.
Every now and then I hear a score so beautiful or memorable that I can't contain myself. The score I'm talking about this time is to Tom Ford's lyrical feature film debut, "A Single Man," which I caught last night at MoMA. Resonant strings by Polish composer Abel Korzeniowski added layers of depth to this intensely graceful character study–an adaptation of a Christopher Isherwood novel.
Abel Korzeniowski's score brilliantly adds to the film with a simplicity and heaviness that matches with a Philip Glass-like minimalism, keeping the film in constant motion and still interesting even for the music geeks.
Mention must be made of the sensuous, evocative music of Abel Korzeniowski that keeps the audience afloat but drowning in emotion…
The music was magnificent and powerful, you feel every heartbeat, every crackle in the fire place and even in the silence you are tuned in with suspense.
The beauty Ford finds is endless, and it's perfectly coupled with a flawless score by Abel Korzeniowski.
Whoever wins the rights to "A Single Man" picks up Oscar noms for at least Best Actor, Supporting Actress, Adapted Screenplay, Score, Set Design, Costumes, and Make Up. Best Director is not outside the realm of possibilities.
With "A Single Man," TWC (The Weinstein Co.) also gets a very strong musical score, a fantastic adapted screenplay. and several tech nominations.
Polish composer Abel Korzeniowski's score must also be given high plaudits. It's gorgeous, heartrending and hopefully already has easily given him a surefire Oscar nomination for Best Score.
Abel Korzeniowski's (score) is the best of the year so far.
Nobody in their right mind, meanwhile, should have a problem with Abel Korzeniowski's exquisite score.
Everything about this film — the look, colors, pacing, shots, composition, cinematography, costumes, soundtrack — says that an extraordinary amount of love and care went into it. (…) Abel Korzeniowski's score is haunting and moving.
September 2009
Comments
37 Responses to A Single Man
August 11th, 2017 at 11:56AM by Aydin:


Make More Musics Abel! Make More Musics!!!

June 24th, 2017 at 5:07PM by Yuanyang Liu:


One of my favorite movie soundtracks thus far. Definitely a masterpiece, which makes me become your fans since then. I could rotate "Stillness of the Mind" for hundres of times.

Admiration from China, Yuanyang Liu

December 26th, 2014 at 5:27PM by Brendan Walsh:


I understood this as the most sophisticated and passionate piece of film score since the Ryuichi Sakamoto OST on Merry Christmas Mr.Lawerence OST but I am an Irish man and absolutely rate it amongst it as part of the greats, such as Clannad's "Harry's Game, with the same passion and beauty as the aforementioned. My ignorance is bliss but I love what I love. Brendan. Thank you Pani Korzeniowski, this is on the same par as Mr. Trevor Horn. Timeless, evergreen and designed for all walks of life. I appreciate your contribution to music and respect it greatly. Brendan Walsh.

October 28th, 2014 at 4:02AM by Ian:


I am a violinist and I would be thrilled if you could perhaps release sheet music for violin or piano! Your arrangements and melodies are so beautiful, and I would love to give my own interpretation to it.

April 23rd, 2014 at 2:20PM by Adrian:


Where can I get the piano sheet music for Becoming George? It is so beautiful.

August 21st, 2013 at 1:34PM by mik:


je viens de voir le film, magnifique, mais la musique me hante encore et me bouleverse profondément. Absolument sublime. Si elle produit un peu le même effet que celle de In the mood for Love, je pense aussi au Kronos Quartet et à Steeve Reich. En attendant de foncer acheter le CD , je l'écoute encore en boucle sur les sites internet. Merci Abel et encore bravo pour ce pur moment d'émotion.

May 13th, 2013 at 1:01PM by javibuddha:


Hello. Congratulations Mr. Korzenowski for your wonderful Jobs and let we can live the cinema on a different and highest sense.

November 3rd, 2012 at 2:50AM by Robert:


I think this film is brilliant, love the end, things often happen to be like this, really really love it, and the music!!! : P

October 17th, 2012 at 6:40PM by Joanna Marzec:


I love your compositions! Daydream is so beautiful. I wish you would compose something for horn. I would love to play your composition. That will be an honor! I was born in Krakow as well. Currently I am finishing masters degree in Music Performance Horn in Oklahoma City University.

May 29th, 2012 at 4:54PM by Patricia Aguirre:


I´ts an absolute masterpiece, scores and soundtracks are what make or break a film, every piece hits the mark and transmits exactly what George (Colin Firth´s character) is feeling as slowly he rediscovers the small joys of life… I simply love the soundtrack as well as the movie brilliantly executed by Tom Ford.

February 6th, 2012 at 4:23AM by Hannah Gush:


Thankyou for writing such beautiful music! It is lovely and atmospheric and haunting! Like a few others on this page, I have been trying to hunt down sheet music for your score for violin. The violin solos are beautiful and I think many people would enjoy playing them. A piano version of the score would also be lovely…. I think many people would be very grateful if you decide to release these. Look forward to hearing more of your music! :)

June 29th, 2011 at 1:43PM by Kathy Fedewa:


Where can I get the sheet music for violin solo from this wonderful film?

April 16th, 2011 at 1:21PM by Oksana_UA:


Your music for A Single Man conquered my soul. It's so… I have no words for describing my admiration. Thank you very much!

March 24th, 2011 at 5:51AM by Tania:


Grazie tanto. E' la musica per quale valga la pena di vivere…

February 17th, 2011 at 11:00PM by Colin's fan:


Thank you Abel, for writing such beautiful and moving soundtracks I've ever heard. I've bought this record on iTunes and I will support you forever.

February 9th, 2011 at 7:22AM by Rachel:


Absolutely beautiful score! And perfect all the way through the movie. I have been listening to it non-stop ever since I discovered this film. How you did not win the Academy Award for best score, I will never know. Lots of thank yous from Australia!

December 8th, 2010 at 2:22AM by Raúl Jiménez-Hernández:


Hipnótica música que encaja perfectamente con cada momento emocionante de la película.
Refuerza el sentido de cada escena y anima incluso a escucharla independientemente.
Evocadora, introspectiva, fácil de escuchar. Sin pretensiones.

Mi más sentida enhorabuena.

November 26th, 2010 at 5:40AM by Darragh:


Find it hard to think of a better film score! Every bar fits so perfectly with every frame. In its own right, it's also at least as beautiful and powerful as the great film it's part of. Some of the most deeply affecting music I've heard in long time.

August 24th, 2010 at 9:54AM by John:


Where can I find the sheet music to this movie?

July 20th, 2010 at 5:07AM by dimitris.c.:


Excellent OST! Great composition. Where can we find the scores of the songs? are they available for the Violin? Thank you.

May 20th, 2010 at 11:58PM by prince_of_refuses:


violin and piano both of them are divine resonance. scene and visor when they intersect music I think start new modern romance so "a single man" did it.

May 18th, 2010 at 1:11PM by Malgosia:


fenomenalna sciezka, swietna robota! dzieki :)

May 17th, 2010 at 5:09AM by Krzysztof:


szanowny Panie, jest to przykład doskonałej ilustracji muzycznej obrazu filmowego. o tym filmie nie da się myśleć, nie wspominając tych cudownych dźwięków. gratulacje!

March 13th, 2010 at 5:40AM by Philippe:


Merci ! Merci ! Merci pour la superbe musique du film, absolument sublime de Tom Ford ! Un très grand moment d'intenses émotions !

March 7th, 2010 at 5:14AM by Tony:


Congratulations and thanks for this beautiful music.
The movie is beautiful and your music is perfect for it.
After I saw the movie, yesterday 10-12pm, I listened to "Stillness of the Mind" during more than 1 hour and a half. That remembers me the CD "In the Heart of the Moon", that I listened during 5 hours, not with a Whisky bottle, but with a very good red French wine, since I'm French.
I had no tears during the film, but I deeply appreciated it, since it shows the illusion of love in a very powerful way.
Bonjour de Grenoble, France.
Tony

March 5th, 2010 at 1:45AM by spanky:


What a tearjerker! I had to fight my tears during the closing scene. Just heavenly! Greets from Germany

February 20th, 2010 at 1:42PM by Vincent Morin:


Graceful music! Magnificent score! «And Just Like That» and «George's Waltz(2)» are deeply beautiful…

February 16th, 2010 at 1:28AM by Caroline Pierrot:


These tracks are truly awesome.

Thank you for bringing us so much dreams !

February 13th, 2010 at 2:52AM by carlos batres:


sublime!!!!!!!!!!!

January 31st, 2010 at 2:02AM by Paulo Santos:


have not seen the movie yet, but you can really imagine the unroll, hearing this fabulous music performed by Korzeniowski…. Thanks for bring to us this sublime music…..

January 27th, 2010 at 12:52AM by Daniel Will-Harris:


Gorgeous score–I keep listening to it over and over.

So beautiful, and more than that–deeply moving.

My favorite score since John Williams' haunting "Accidental Tourist"

January 17th, 2010 at 12:22PM by Garry Geer:


I could state many things, but:

BRAVO!

will do.

Thank you for this.

December 25th, 2009 at 8:12PM by Mary Lynn Kramer:


Please, please release the full movie soundtrack… Absolutely beautiful, haunting, – just outstanding… Cannot get the trailer soundtrack off my mind…

October 18th, 2009 at 1:35AM by ross:


yes, PLEASE release the FULL OST on a CD!!!
"Stillness of the mind" and "Carlos" sound SUBLIME.

October 16th, 2009 at 10:13PM by Amy:


If "Stillness of the mind" and "Carlos" are any sign of what the entire score is like, I cannot wait to see this film.

October 2nd, 2009 at 9:53AM by Ellen:


I second this request. I dearly hope a score soundtrack CD will be released.

September 19th, 2009 at 6:08PM by Tambay Obenson:


I can't get the composition from the trailer out of my head. Will there be a full soundtrack (including the trailer track) for the film that one will be able to purchase?
Reply