W.E.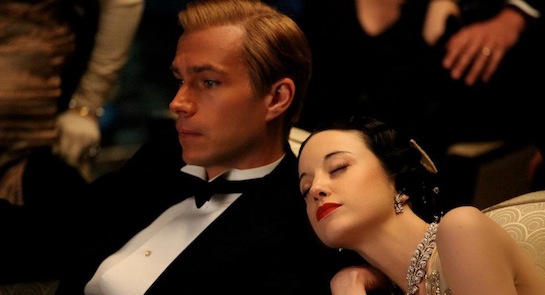 Synopsis
W.E. tells the story of two fragile but determined women – Wally Winthrop and Wallis Simpson – separated by more than six decades. In 1998, lonely New Yorker Wally Winthrop (Abbie Cornish) is obsessed with what she perceives as the ultimate love story: King Edward's VIII's abdication of the British throne for the woman he loved, American divorcée Wallis Simpson. But Wally's research, including several visits to the Sotheby's auction of the Windsor Estate, reveals that the couple's life together was not as perfect as she thought. Weaving back and forth in time, W.E. intertwines Wally's journey of discovery in New York with the story of Wallis (Andrea Riseborough) and Edward (James D'Arcy), from the glamorous early days of their romance to the slow unraveling of their lives in the decades that followed.


Madonna about the film
W.E. is about the nature of true love, and the sacrifices and compromises that are often made. I've wanted to tell this story for a very long time, and bringing it to life has been a great adventure for me.

— Madonna
Music between Mirrors
The prevailing sense of obsession was what inspired me in W.E.. The irrational compulsion to sacrifice everything and anything for love – a love that could easily be just an illusion, a reflection of a nonexistent, fictitious object or a repetitive answer to the Rorschach test, taking the form of a pair of ten-thousand-dollar gloves…

Madonna intensifies this impression with the use of long tracking shots down hallways and mirrors. We can see reflections of the characters displayed on different objects, from unexpected angles, but we are not allowed to look at them directly.

The score for W.E. takes inspiration from this filmic approach. There are six recurring themes in the film, but none of them is fixed to a traditional function like a love motif or a character motif.

Instead, the same theme can carry despair and sorrow in one scene, and turn into hope and joy in another. This happens without any melodic alterations. Once established, a melody remains the same and repeats relentlessly, over and over again. It's like watching multiple reflections of a person in a room full of mirrors. The person doesn't really change, but the world revolving around it compels us to think otherwise.

The opening scene introduces the two most prominent themes of the movie.

The first one, called Six Hours, very melodic, is displayed here in full force. This is the one that's starts the film in despair and sorrow, kindles a new relationship in the middle of the story, and empowers us with hope and joy before the end credits.

The next one is only hinted at the end of the first cue.
It's just a simple harmonic structure of what will later become the strongest theme of all – Abdication. It appears six times in the film and serves to bridge two love stories in two different time periods.

The score was written over the course of four months, starting in January 2011. It was recorded with a 60-piece orchestra and solos (piano, violin and viola) at Abbey Road Studios in London, in April 2011.

— Abel Korzeniowski
Critics about the score
Chocolate for the Ears! (…)
W.E. reaches right in, grabs my gut, and transports me to every single love story I've ever seen, heard, or felt. It is the universal embodiment of the raw, emotional power of romantic love. I daresay it is the most romantic score I've ever heard. Yes, ever. Eat your heart out, FRANCIS LAI. You've been dethroned, MAURICE JARRE. (…)
You can taste the bittersweetness of this romance. The passionate longing is so palpable, it is almost a chemical reaction. If you have this album, you won't need chocolate ever again. Think of all the weight you won't have to gain when you next get a craving for theobromine. With a good set of speakers or headphones, this music is just that good. (…)
Rating: 10/10
Incredibly gorgeous and one of the most moving scores I've listened to in a while.
Utterly gorgeous.
This score is brilliant and it did pass my first expectations even though they were very high.
Rating: 5/5
(…) the score is absolutely gorgeous. Often utilizing the ensemble to its full emotional capacity, Korzeniowski really plays with the emotions of the audience. (…)
Lovers of A Single Man will be glad to hear Abel Korzeniowski take that sound in a more potent, romantic direction, accordingly giving them one of the most beautiful scores of the year and a fantastic example of how simplicity can often work wonders. (…)
Abel Korzeniowski delivers one of the most attractive scores of the year. In fact, many of the highlights are worthy "best of the year" material.
(…) Abel's own voice which is gifted with a strong flair and ultimate passion, under-signing each and every single composition he wrote for this [W.E.]. Elegant, small-scaled and classical sounding, this romantic little musical fairy tale is one of the most gorgeous works you'll hear this year.
The imagery is then elevated to dizzying heights by an equally lustrous score by Abel Korzeniowski.
… brilliantly brought to life with a glorious score by Polish-born composer Abel Korzeniowski.
Abel Korzeniowski's musical score is magnificent…
the excellent soundtrack by Abel Korzeniowski
March 2011
Comments
27 Responses to W.E.
August 11th, 2017 at 11:54AM by Aydin:


The Contrast of Sense and Music…

May 18th, 2017 at 8:37AM by Jay Gee:


No words can describe how much love I have for your music especially for W.E. scores although I've never seen the movie before and I plan not to watch the movie (do not want to ruin the emotions). Thank you for producing such a masterpiece, sir. Je t'adore!

December 12th, 2015 at 3:50AM by Dan:


I have been listening to this soundtrack now for several years and it has not lost its power over me. I play Evgeni's Waltz every time I sit at the piano (at least twice a day), but I really want the piano part of Dance For Me Wallis, my favourite piece. I can work out the strings, but please can someone send me in the direction of the piano sheets. Thank you.

October 22nd, 2015 at 10:35PM by William:


Respect++." Dance with me Wallis" i just can't stop admiring its beauty. It has been four years now since we have been in this relationship now, but i am torn because i have been in another relationship with piano for 12 years now so,Please transcript this!I am begging you,please Mr.Korzeniowski, consummate us.

June 4th, 2015 at 3:54PM by Ann:


There are no words for the depth that your music reaches into my very being. It helps me express so much. Your gifts and talents…………..You have inspired to go back to the Piano. Thank you

November 4th, 2014 at 6:51AM by Sophia:


I heard Dance for me Wallis during Skate Canada and I fell in love with it. I would love to play it but I cant find the music sheet for piano. The last great piano music score I enjoyed playing was Michael Nyman, the Piano. Thanks for your help

July 26th, 2014 at 2:04PM by Mykeywood:


Still listen to entire soundtrack end to end at least once a week. Without a doubt….a bloody brilliant piece of art.

June 30th, 2014 at 6:10PM by Irene Zhang:


Your music is amazing and I think it's one of the best part in this film. I watched the film 'W.E.'yesterday and deeply fall in your music – Dance for me Wallis. This song is fantastic and I can't tell how exciting I am when I heard it at the first time. When I listen to it, it's just like a storyteller is telling a old romantic story with his deep voice – and the pieces of the film suddenly appear in my mind, clearly and warmly. Thank you Mr.Korzeniowski!

May 3rd, 2014 at 6:35AM by Blanquita:


The one of the best music I ever heard , I have been shock by this music ,,music talked.

May 18th, 2013 at 8:34AM by admin:


@charlotte try http://www.abelkorzeniowski.com/category/music-sheets
hope this helps.

May 18th, 2013 at 1:30AM by charlotte:


omg amazing i'm looking for the sheet music but i can't find it :(
help??

May 6th, 2013 at 2:37AM by terry:


original and wonderfull soundtrack….another very masterpiece…

September 15th, 2012 at 7:47PM by admin:


done

September 14th, 2012 at 5:23PM by Demetris Christodoulides:


Corrected link for:

DEMETRIS CHRISTODOULIDES | IFMCA

http://christodoulides.wordpress.com/2012/01/12/a-year-in-film-music-the-best-of-2011/

Thanks!

April 21st, 2012 at 3:26AM by Farid:


Every piece of score is really wonderful. Listening on and on gives me more inspiration and pleasure. Greate job, Abel.

April 19th, 2012 at 12:32AM by Palisander:


I just saw the film and i was amazed! Not only is the movie a wonderful piece but the music just took my breath away. It reminded me of all those bitter and sweet memories from the past and let me dive back into it with a smile on my face. thank you for such a great talent and that you share it with us. i admire you.

April 3rd, 2012 at 3:11AM by Alexander Glazov:


Hello! I live in Saint-Petersburg. A lot of my friends and me enjoied your new music. Abel, it's very optimistic work, full of energy and elegance. I m so inspired of this music. So the same emotion I fell only after Aram Khachaturian, Phillip Glass. So this is new feeling of music. As a music from "A single man" it's a brilliant work, can be called as a masterpiece. Bravo Abel!
P.S. Where it's possilbe to purchase piano sheets of your "Evgeni's Waltz"?

March 23rd, 2012 at 11:38AM by Candace McCarty:


I immediately fell in love with "Evgeni's Waltz". How can I purchase the piano sheetmusic for this piece? I've been looking at all the sheetmusic websites, and to no avail. I'm trying to play the piece by ear on piano…but a little difficult for me…would much rather see the notes. PLEASE, PLEASE, PLEASE TELL ME WHERE I CAN GET THE NOTES TO THIS SONG. Candace

February 24th, 2012 at 6:10AM by Lena Lan:


Jesli ludzie pragna obejrzec film wylacznie ze wzgledu na soundtrack – to chyba najlepsze, co moze sie zdarzyc kompozytorowi filmowemu. Dziekuje za kolejna dawke niesamowitych przezyc. Chapeau bas!

February 23rd, 2012 at 8:08PM by Ker:


I would give my first-born to have the piano sheet music for W.E. – Will it be for sale any time soon? Please say 'yes' –

January 22nd, 2012 at 9:45AM by erfanwinter:


the best of the best

January 18th, 2012 at 11:26PM by YvesMichael:


I keep listening W.E. score on and on and after each listening I still get goosebumps. This is absolutely stunning, hauting, perfect, so beautiful, a masterpiece. So talented!! I am totally blown away!!

January 17th, 2012 at 10:43AM by Nagham:


I watched the film at the Dubai International Film Festival, and I absolutely loved it. The score was incredible and I'd love to know where I can buy the soundtrack.

January 16th, 2012 at 9:20AM by Ricky Greaves:


Where and when can W.E. get the soundtrack in the U.K?

January 15th, 2012 at 6:39PM by Drew Gallo:


Looking forward to owning this wonderful piece of work! Bravo!

January 4th, 2012 at 1:18AM by takada28:


Another masterpiece what will ramains in Hall of Fame !
I´m looking foward very much to comes out the CD :-).

November 2nd, 2011 at 10:11AM by Andrea:


I saw the film at Venice Film Festival, and I can say that it's amazing…great pathos, wonderfull performances (Andrea Riseborough is precious), fantastic style with costumes and set decorations and of course memorable music score by abel Korzeniowski, Madonna is very good director!
Reply