W.E. Music From The Motion Picture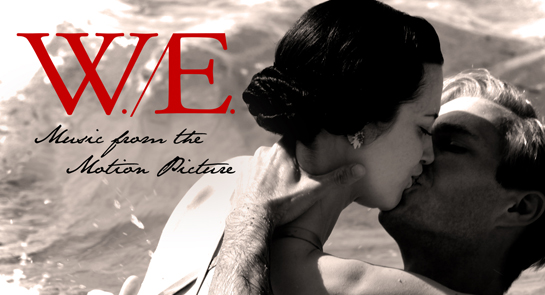 'W.E. Music From The Motion Picture' Composed by Abel Korzeniowski to be Released Digitally on Interscope Records Jan. 31st
Soundtrack Includes Golden Globe Award Winning Madonna Song "Masterpiece"

NEW YORK, Jan. 23, 2012 /PRNewswire/ — The Golden Globe nominated music from Madonna's upcoming film W.E. composed, orchestrated and produced by Abel Korzeniowski , which also includes Madonna's Golden Globe award winning song "Masterpiece", is scheduled to be released digitally on Interscope Records on January 31st, it was announced today. W.E. which was directed, co-written and produced by Madonna and distributed by The Weinstein Company is scheduled to be released in February.
The score was recorded in April 2011 at the famed Abbey Road Studios in London with a 60-piece orchestra conducted by Terry Davies including piano, violin and viola solos.
The Polish born Los Angeles based Korzeniowski previously wrote the original score for the Tom Ford film A Single Man for which he also received a Golden Globe nomination.

The prevailing sense of obsession was what inspired me in W.E.—the irrational compulsion to sacrifice everything and anything for love—a love that could easily be just an illusion. In my music, I wanted to reflect those powerful and conflicting emotions through a web of melodic themes, which relentlessly repeat and constantly swing between despair and sorrow, and hope and joy.

commented Korzeniowski.

"W.E." tells the story of American divorcee Wallis Simpson (Andrea Riseborough) and England's King Edward (James D'Arcy) who abdicated his thrown to be with the woman he loved. It is considered one of the greatest love stories of the 20th century. The story is told through the eyes of a modern day New Yorker Wally Winthrop (Abby Cornish). Composer Korzeniowski masterfully and seamlessly bridged the two unique worlds of Europe in the 30's and 40's and the contemporary Manhattan environment of a woman lost in her dreams of the perfect love.
In addition to Korzeniowski's magnificent score, the soundtrack includes the original song "Masterpiece" composed by Madonna, Julie Frost and Jimmy Harry and sung by Madonna which is played during the end credits of the film. It will also be included on Madonna's upcoming solo album for Interscope, MDNA, which is scheduled for release this spring.
January 2012
Comments
15 Responses to W.E. Music From The Motion Picture
May 23rd, 2015 at 9:08AM by Tao Wang:


Where can we get the music sheets of this album? Just tell me where, and I will buy them immediately.

April 16th, 2013 at 10:50PM by Grace:


IF PEOPLE SAY THAT THE PERFECTION DOES NOT EXIST THE ARE MISTAKEN BECAUSE THIS SOUNDTRACK AS THE ON OF A SINGLE MAN ARE PERFECTION THERE ISNT A NOTE OF BOTH THAT ISNT MAGICAL… IM AMAZED HOW EACH SONGS EXPRESSES SO MANY THINGS HOW IT GETS TO MY HEART… ITS LIKE IF YOU EXPRESS FEELINGS AND SENSATIONS IN EACH NOT… THEY ARE SO POWERFULL AND FULL OF LIFE… NEVER STOP COMPOSING

April 3rd, 2013 at 8:55AM by Valentina:


It's amaaaazing!! The best soundtrack ever! Love this music! Thank you!

March 12th, 2013 at 4:25AM by notette:


niewiarygodne jak muzyka ta uwodzi, jak dogłębnie przenika ciało i umysł, w żadnym z języków nie znajdę tak wyszukanych słów, które mogłyby sprostać tym dźwiękom czy dać wyraz uczuciom, jakie muzyka ta wyzwala…

February 14th, 2013 at 10:04AM by ecstatic:


Panie A.Korzeniowski – lepszego prezentu na dzisiaj Pan nie mógł mi sprawić. Pana wszystkie utwory – Istna Poezja. Dziękuje.

January 4th, 2013 at 10:43PM by miji:


it's Lujon

September 21st, 2012 at 12:32AM by PETA:


Lijon by Henri Mancini

August 3rd, 2012 at 12:15PM by j. wallace:


Like Cindy Martin I long to know the name of the waltz they play at the party when they first meet. Ty JW

June 10th, 2012 at 1:10AM by paola:


the soundtrack and the movie and beautiful

June 10th, 2012 at 1:09AM by paola:


soundtracks and the fim and wonderful

June 10th, 2012 at 1:07AM by paola:


meraviglioso

May 4th, 2012 at 8:53PM by Cindi Martin:


Please tell me the title of the song (near the beginning of the movie "W.E.") where the Duke and Duchess met for the first time and danced to this lovely and old musical arrangement.

It was not mentioned in the Soundtrack credits and it's driving me crazy because I can't think of the title.

Thank you for any help in recapturing my memory.
C. Martin

March 8th, 2012 at 7:02AM by roole4ka:


This is the great music! Where can we download sheets???

February 3rd, 2012 at 7:01PM by Rebecca:


THIS soundtrack should have won the Golden Globe! I really think AK is set to take over the soundtrack world from John Williams!!! Oh, AND loved your music in A Single Man! When I heard the music of the trailer, I completely stopped what I was doing and stood transfixed. Seriously, why didn't you win the GG?!?!?!?!?

January 23rd, 2012 at 2:40PM by Andrea:


The best music score of 2011 the same level of magistral A Single Man…hope the soundtrack will realise on cd!
Reply