IFMCA Awards 2013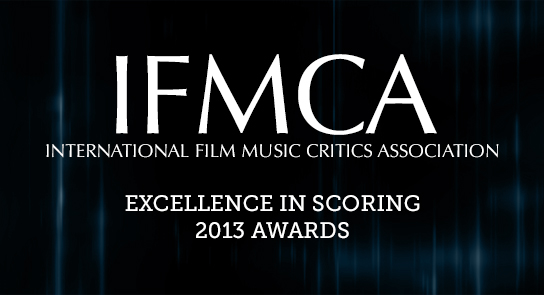 THE INTERNATIONAL FILM MUSIC CRITICS ASSOCIATION (IFMCA) announces its list of winners for excellence in musical scoring in 2013. Abel Korzeniowski wins FILM SCORE OF THE YEAR (Romeo & Juliet), FILM COMPOSER OF THE YEAR, BEST ORIGINAL SCORE FOR A DRAMA FILM (Romeo & Juliet), with additional three nominations for BEST ORIGINAL SCORE FOR A FANTASY/SCIENCE FICTION/HORROR FILM (Escape from Tomorrow), FILM MUSIC COMPOSITION OF THE YEAR ("The Grand Finale" from Escape From Tomorrow and "A Thousand Times Goodnight" from Romeo and Juliet).
IFMCA is an association of online, print and radio journalists who specialize in writing about original film and television music. Since its inception, the IFMCA has grown to comprise over 50 members from countries as diverse as Australia, Belgium, Canada, Cyprus, France, Germany, Greece, Ireland, Italy, the Netherlands, Poland, Spain, Sweden, Switzerland, the United Kingdom, and the United States of America.
Previous IFMCA Score of the Year Awards have been awarded to Mychael Danna's LIFE OF PI in 2012, John Williams' WAR HORSE in 2011, John Powell's HOW TO TRAIN YOUR DRAGON in 2010, Michael Giacchino's UP in 2009, Alexandre Desplat's THE CURIOUS CASE OF BENJAMIN BUTTON in 2008, Dario Marianelli's ATONEMENT in 2007, James Newton Howard's LADY IN THE WATER in 2006, John Williams' MEMOIRS OF A GEISHA in 2005 and Michael Giacchino's THE INCREDIBLES in 2004.


Winners and Nominees
FILM SCORE OF THE YEAR
WINNER: Romeo and Juliet, music by Abel Korzeniowski
Evil Dead, music by Roque Baños
Grand Piano, music by Víctor Reyes
Gravity, music by Steven Price
The Hobbit: The Desolation of Smaug, music by HowardShore


FILM COMPOSER OF THE YEAR
WINNER: Abel Korzeniowski
Roque Baños
Laurent Eyquem
Steven Price
Brian Tyler


BREAKTHROUGH FILM COMPOSER OF THE YEAR
WINNER: Laurent Eyquem
César Benito
Sarah Class
Alexander Ebert
Steven Price


BEST ORIGINAL SCORE FOR A DRAMA FILM
WINNER: Romeo and Juliet, music by Abel Korzeniowski
The Best Offer [La Migliore Offerta], music by Ennio Morricone
The Book Thief, music by John Williams
Copperhead, music by Laurent Eyquem
Summer in February, music by Benjamin Wallfisch


BEST ORIGINAL SCORE FOR A COMEDY FILM
WINNER: The Secret Life of Walter Mitty, music by Theodore Shapiro
Instructions Not Included [No Se Aceptan Devoluciones], music by Carlo Siliotto
Quai d'Orsay, music by Philippe Sarde
This is the End, music by Henry Jackman
Venus in Fur [La Vénus à la Fourrure], music by Alexandre Desplat


BEST ORIGINAL SCORE FOR AN ACTION/ADVENTURE/THRILLER FILM
WINNER: Grand Piano, music by Víctor Reyes
Iron Man 3, music by Brian Tyler
Passion, music by Pino Donaggio
Rubinrot, music by Philipp F. Kölmel
Stalingrad, music by Angelo Badalamenti


BEST ORIGINAL SCORE FOR A FANTASY/SCIENCE FICTION/HORROR FILM
WINNER: Evil Dead, music by Roque Baños
Escape From Tomorrow, music by Abel Korzeniowski
Gravity, music by Steven Price
The Hobbit: The Desolation of Smaug, music by HowardShore
Star Trek Into Darkness, music by Michael Giacchino


BEST ORIGINAL SCORE FOR AN ANIMATED FEATURE
WINNER: The Wind Rises [Kaze Tachinu], music by Joe Hisaishi
The Croods, music by Alan Silvestri
Epic, music by Danny Elfman
Frozen, music by Christophe Beck
Planes, music by Mark Mancina


BEST ORIGINAL SCORE FOR A DOCUMENTARY
WINNER: Tim's Vermeer, music by Conrad Pope
Africa, music by Sarah Class
Anne & Alet, music by Mark Rayen Candasamy
Die Nordsee: Unser Meer, music by Oliver Heuss
Space Shuttle Columbia: Mission of Hope, music by Blake Neely


BEST ORIGINAL SCORE FOR A TELEVISION SERIES
WINNER: Isabel, music by Federico Jusid
Czas Honoru, music by Bartosz Chajdecki
Da Vinci's Demons, music by Bear McCreary
El Tiempo Entre Costuras, music by César Benito
Game of Thrones, music by Ramin Djawadi


BEST ORIGINAL SCORE FOR A VIDEO GAME OR INTERACTIVE MEDIA
WINNER: Remember Me, music by Olivier Deriviére
Assassin's Creed IV: Black Flag, music by Brian Tyler
Beyond: Two Souls, music by Lorne Balfe
Company of Heroes 2, music by Cris Velasco
Puppeteer, music by Patrick Doyle


BEST ARCHIVAL RELEASE OF AN EXISTING SCORE – RE-RELEASE OR RE-RECORDING
WINNER: The Salamander, music by Jerry Goldsmith; re-recording conducted by Nic Raine; album produced by James Fitzpatrick; liner notes by Frank K. De Wald; album art direction by Paul de Blieck, Johan van den Broeck and GINKO DIGI (Prometheus/Tadlow)
Breakfast at Tiffany's, music by Henry Mancini; album produced by Douglass Fake and Roger Feigelson; liner notes by Jeff Bond; album art direction by Joe Sikoryak (Intrada)
QB VII, music by Jerry Goldsmith; re-recording conducted by Nic Raine; album produced by James Fitzpatrick; liner notes by Frank K. De Wald; album art direction by Damien Doherty, James Fitzpatrick and GINKO DIGI (Prometheus/Tadlow)
The Wild Bunch, music by Jerry Fielding; album produced by Lukas Kendall; liner notes by Lukas Kendall and John Takis; album art direction by Joe Sikoryak (Film Score Monthly)
Wyatt Earp, music by James Newton Howard; album produced by Dan Goldwasser; liner notes by Tim Grieving; album art direction by Dan Goldwasser (La-La Land)


BEST ARCHIVAL RELEASE OF AN EXISTING SCORE – COMPILATION
WINNER: Lethal Weapon Soundtrack Collection, music by Michael Kamen, Eric Clapton and David Sanborn; album produced by Neil S. Bulk and MV Gerhard; liner notes by Jeff Bond; album art direction by Jim Titus (La-La Land)
Doctor Who: The 50th Anniversary Collection, music by Various Composers; album produced by Mark Ayres, Reynold DaSilva and David Stoner; liner notes by Mark Ayres; album art direction by Stuart Ford (Silva Screen)
Michel Legrand Anthology, music by Michel Legrand; album produced by Stéphane Lerouge; liner notes by Stéphane Lerouge; album art direction by Jerome Witz-Gilles Guerlet (Universal/Écoutez le Cinéma!)
Varèse Sarabande: A 35th Anniversary Celebration, music by Various Composers; album produced by Robert Townson; liner notes by Robert Townson; album art direction by Robert Townson and Bill Pitzonka (Varèse Sarabande)
The X-Files: Volume Two, music by Mark Snow; album produced by Mark Snow, Mike Joffe and Nick Redman; liner notes by Randall D. Larson; album art direction by Mark Banning (La-La Land)


FILM MUSIC RECORD LABEL OF THE YEAR
WINNER: La-La Land Records, MV Gerhard and Matt Verboys
Intrada Records, Douglass Fake and Roger Feigelson
Moviescore Media, Mikael Carlsson
Prometheus Records/Tadlow Music, Luc Van de Ven and James Fitzpatrick
Quartet Records, Jose M. Benitez


FILM MUSIC COMPOSITION OF THE YEAR
WINNER: "Abominations Rising" from Evil Dead, music by Roque Baños
"The Book Thief" from The Book Thief, music by John Williams
"The Grand Finale" from Escape From Tomorrow, music by Abel Korzeniowski
"Beyond the Forest" from The Hobbit: The Desolation of Smaug, music by Howard Shore
"A Thousand Times Goodnight" from Romeo and Juliet, music by Abel Korzeniowski


February 2014
Comments
Reply