IFMCA Award Nominations 2014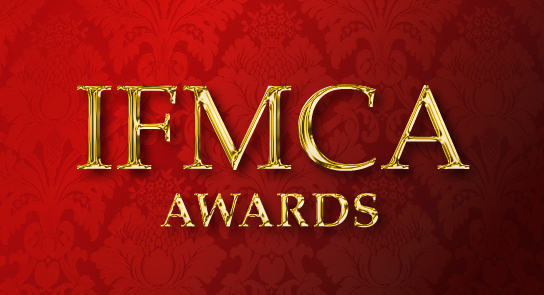 THE INTERNATIONAL FILM MUSIC CRITICS ASSOCIATION (IFMCA) announces nominees for its 2014 Awards.
Abel Korzeniowski's PENNY DREADFUL nominated for BEST ORIGINAL SCORE FOR A TELEVISION SERIES.
IFMCA is an association of online, print and radio journalists who specialize in writing about original film and television music. Since its inception, the IFMCA has grown to comprise over 50 members from countries as diverse as Australia, Belgium, Canada, Cyprus, France, Germany, Greece, Ireland, Italy, the Netherlands, Poland, Spain, Sweden, Switzerland, the United Kingdom, and the United States of America.
The winners of the 11th IFMCA Awards will be announced on February 19, 2015.


Nominees
FILM SCORE OF THE YEAR
The Grand Budapest Hotel, music by Alexandre Desplat
How to Train Your Dragon 2, music by John Powell
Interstellar, music by Hans Zimmer
Maleficent, music by James Newton Howard
The Monkey King [Xi You Ji: Da Nao Tian Gong], music by Christopher Young


COMPOSER OF THE YEAR
Marco Beltrami
Alexandre Desplat
James Newton Howard
John Powell
Hans Zimmer


BREAKTHROUGH COMPOSER OF THE YEAR
Alexander Cimini
Gustavo Dudamel
Mica Levi
Matthew Llewellyn
John Paesano


BEST ORIGINAL SCORE FOR A DRAMA FILM
The Homesman, music by Marco Beltrami
The Imitation Game, music by Alexandre Desplat
The Liberator [Libertador], music by Gustavo Dudamel
The Monuments Men, music by Alexandre Desplat
The Theory of Everything, music by Jóhann Jóhannsson


BEST ORIGINAL SCORE FOR A COMEDY FILM
Cantinflas, music by Roque Baños
The Grand Budapest Hotel, music by Alexandre Desplat
A Million Ways to Die in the West, music by Joel McNeely
Night at the Museum: Secret of the Tomb, music by Alan Silvestri
Wishin' and Hopin', music by Matthew Llewellyn


BEST ORIGINAL SCORE FOR AN ACTION/ADVENTURE/THRILLER FILM
The Hunger Games: Mockingjay, Part I, music by James Newton Howard
Inherent Vice, music by Jonny Greenwood
The Maze Runner, music by John Paesano
The Monkey King [Xi You Ji: Da Nao Tian Gong], music by Christopher Young
No God No Master, music by Nuno Malo


BEST ORIGINAL SCORE FOR A FANTASY/SCIENCE FICTION/HORROR FILM
Autómata, music by Zacarías M. de la Riva
Godzilla, music by Alexandre Desplat
The Hobbit: The Battle of the Five Armies, music by Howard Shore
Interstellar, music by Hans Zimmer
Maleficent, music by James Newton Howard


BEST ORIGINAL SCORE FOR AN ANIMATED FEATURE
Asterix: The Land of the Gods [Astérix: Le Domaine des Dieux], music by Philippe Rombi
The Boxtrolls, music by Dario Marianelli
How to Train Your Dragon 2, music by John Powell
Son of Batman, music by Frederik Wiedmann
Tarzan, music by David Newman


BEST ORIGINAL SCORE FOR A DOCUMENTARY
Ballet Boys, music by Henrik Skram
Bears, music by George Fenton
Cosmos: A Spacetime Odyssey, music by Alan Silvestri
Hidden Kingdoms, music by Ben Foster
The Unknown Known, music by Danny Elfman


BEST ORIGINAL SCORE FOR A TELEVISION SERIES
Fargo, music by Jeff Russo
Gunshi Kanbei, music by Yūgo Kanno
Isabel, music by Federico Jusid
The Leftovers, music by Max Richter
Penny Dreadful, music by Abel Korzeniowski


BEST ORIGINAL SCORE FOR A VIDEO GAME OR INTERACTIVE MEDIA
Assassin's Creed: Unity, music by Chris Tilton and Sarah Schachner
The Banner Saga, music by Austin Wintory
Castlevania: Lords of Shadow 2, music by Óscar Araujo
Sid Meier's Civilization: Beyond Earth, music by Geoff Knorr, Griffin Cohen, Michael Curran and Grant Kirkhope
World of Warcraft: Warlords of Draenor, music by Russell Brower, Neal Acree, Clint Bajakian, Sam Cardon, Craig Stuart Garfinkle, Edo Guidotti and Eímear Noone


BEST ARCHIVAL RELEASE OF AN EXISTING SCORE – RE-RELEASE OR RE-RECORDING
The Abyss; music by Alan Silvestri, album produced by Nick Redman and Robert Townson, liner notes by Julie Kirgo, album art direction by Robert Townson and Bill Pitzonka (Varèse Sarabande)
Empire of the Sun; music by John Williams, album produced by Mike Matessino, liner notes by Mike Matessino, album art direction by Jim Titus (La-La Land)
Lair; music by John Debney, additional music by Kevin Kaska, album produced by Dan Goldwasser and John Debney, liner notes by Jeff Bond, album art direction by Dan Goldwasser (La-La Land)
The Lion King; score by Hans Zimmer, songs by Elton John and Tim Rice, album produced by Randy Thornton, liner notes by Hans Zimmer and Don Hahn, album art direction by Lorelay Bové (Disney)
On the Waterfront; music by Leonard Bernstein, album produced by Douglass Fake, liner notes by Frank K. DeWald, album art direction by Joe Sikoryak (Intrada)


BEST ARCHIVAL RELEASE OF AN EXISTING SCORE – COMPILATION
The Ava Collection; music by Elmer Bernstein, album produced by Douglass Fake, liner notes by Douglass Fake, album art direction by Joe Sikoryak (Intrada)
Batman: The Animated Series Volume 3; music by Shirley Walker, Carlos Rodriguez, Peter Tomashek, Todd Hayen, Harvey R. Cohen, Michael McCuistion, Lars Clutterham, Stuart Balcomb, Mark Koval, Lolita Ritmanis, Richard Bronskill, Tamara Kline, Carl Johnson, Steve Chesne and James Stemple, album produced by John Takis and Neil S. Bulk, liner notes by John Takis, album art direction by Dan Goldwasser (La-La Land)
Elmer Bernstein: The Wild Side; music by Elmer Bernstein, performed by Big Band de Canarias feat. Esther Ovejero, Kike Perdomo and Sara Andon, album produced by Robert Townson and Kike Perdomo, liner notes by Robert Townson, album art direction by Robert Townson and Bill Pitzonka (Varèse Sarabande)
Henry Mancini: The Classic Soundtrack Collection; music by Henry Mancini, album produced by Didier C. Deutsch and Mark G. Wilder, liner notes by Didier C. Deutsch, album art direction by Chris Mancini and Edward O'Dowd (Legacy/Sony)
The Naked Gun Trilogy; music by Ira Newborn, album produced by Dan Goldwasser and Neil S. Bulk, liner notes by Daniel Schweiger, album art direction by Dan Goldwasser (La-La Land)


FILM MUSIC RECORD LABEL OF THE YEAR
Intrada Records, Douglass Fake and Roger Feigelson
La-La Land Records, MV Gerhard and Matt Verboys
Moviescore Media, Mikael Carlsson
Quartet Records, Jose M. Benitez
Varèse Sarabande, Robert Townson


FILM MUSIC COMPOSITION OF THE YEAR
"Flying With Mother" from How to Train Your Dragon 2, music by John Powell
"The Hanging Tree" from The Hunger Games: Mockingjay, Part I, music by Jeremiah Fraites, Wesley Schultz and James Newton Howard, lyrics by Suzanne Collins
"Maleficent Flies" from Maleficent, music by James Newton Howard
"Maleficent Suite" from Maleficent, music by James Newton Howard
"Tsunami" from Exodus: Gods and Kings, music by Harry Gregson-Williams
February 2015
Comments
One Response to IFMCA Award Nominations 2014
May 3rd, 2015 at 10:28PM by Atif:


其實李鳳姐第二隻專輯的正式名稱係叫 情深透 李美鳳全情歌集 1992 年推出 主打歌係 每次愛過後 好傷感的 阿鳳姐上過勁歌現場演繹這首歌 唱得唔錯喎 但某程度上佢形象和歌路太成熟 老餅 得來又唔夠潮 熱愛Can't let you go tried hardly to be好潮 但it flalniy came out with另一個種 效果 結果阿鳳姐好快就被out
Reply