Emmy Award Nominations 2016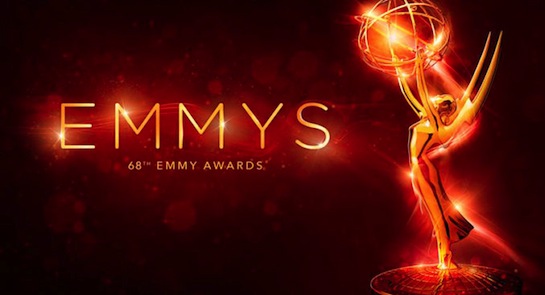 PENNY DREADFUL receives six Primetime Emmy Awards! Huge congratulations to Showtime and the entire PD team!
Outstanding Special Visual Effects: James Cooper, Bill Halliday, Sarah McMurdo, Mai-Ling Lee, Greg Astles, Ricardo Gomez, Matt Ralph, Alexandre Scott,                                                                 Kyle Yoneda
Outstanding Prosthetic Makeup For A Series: Nick Dudman, Sarita Allison, Barney Nikolic, Paul Spateri, Dennis Penkov
Outstanding Production Design For A Narrative Contemporary Or Fantasy Program: Jonathan McKinstry, Jo Riddell, Philip Murphy
Outstanding Music Composition For A Series: Abel Korzeniowski
Outstanding Makeup For A Single Camera Series: Enzo Mastrantonio, Clare Lambe, Caterina Sisto, Lorraine McCrann, Morna Ferguson
Outstanding Hairstyling For A Single Camera Series: Ferdinando Merolla, Sevlene Roddy, Giuliano Mariano, Orla Carroll
Congratulations to all the other nominees and winners!
Outstanding Original Main Title Theme Music:
Crazy Ex-Girlfriend (CW): Rachel Bloom, Adam Schlesinger
Marvel's Jessica Jones (Netflix): Sean Callery WINNER
Narcos (Netflix): Rodrigo Amarante
Sense8 (Netflix): Johnny Klimek, Tom Tykwer
The Night Manager (AMC): Victor Reyes
The Whispers (ABC): Robert Duncan
Outstanding Original Music Composition For A Series:
Bates Motel (A&E): Chris Bacon
Chef's Table (Netflix): Duncan Thum
Limitless (CBS): Paul Leonard-Morgan
Minority Report (FOX): Sean Callery
Mr. Robot (USA): Mac Quayle WINNER
Penny Dreadful (Showtime): Abel Korzeniowski
Outstanding Music Composition For A Limited Series, Movie, Or Special:
All The Way (HBO): James Newton Howard
Descendants (Disney Channel): David Lawrence
Fargo (FX Networks): Jeff Russo
Jesse Stones: Lost In Paradise (Hallmark Channel): Jeff Beal
The Night Manager (AMC): Victor Reyes WINNER
War & Peace (Lifetime): Martin Phipps
Outstanding Music Direction:
A Very Murray Christmas (Netflix): Paul Shaffer
Danny Elfman's Music From The Films Of Tim Burton (PBS): Danny Elfman WINNER
Jazz At The White House (ABC): John Beasley
Sinatra: Voice For A Century (PBS): Alan Gilbert
Smithsonian Salutes Ray Charles: In Performance At The White House (PBS): Rickey Minor, Christian McBride
Outstanding Music And Lyrics:
Crazy Ex-Girlfriend (CW): Adam Schlesinger, Rachel Bloom, Jack Dolgen
Empire (Fox): Jim Beanz
Galavant (ABC): Alan Menken, Glenn Slater
Garfunkel And Oates: Trying To Be Special (Vimeo): Riki Lindhome, Kate Micucci
The Hunting Ground (CNN): Diane Warren WINNER
September 2016
Comments
Reply