Nocturnal Animals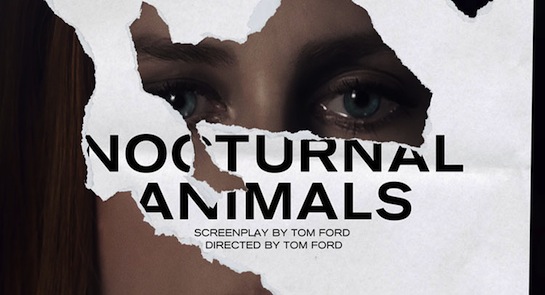 Synopsis:
A successful Los Angeles art-gallery owner's idyllic life is marred by the constant traveling of her handsome second husband. While he is away, she is shaken by the arrival of a manuscript written by her first husband, who she has not seen in years. The manuscript tells the story of a teacher who finds a trip with his family turning into a nightmare. As Susan reads the book, it forces her to examine her past and confront some dark truths.
Critics about the film:
David Lynch meets Alfred Hitchcock meets Douglas Sirk in Nocturnal Animals, a sumptuously entertaining noir melodrama laced with vicious crime and psychological suspense, which more than delivers on the promise of A Single Man, writer-director Tom Ford's first foray behind the camera seven years ago.
Nocturnal Animals' is a suspenseful and intoxicating movie — a thriller that isn't scared to go hog-wild with violence, to dig into primal fear and rage, even as it's constructed around a melancholy love story that circles back on itself in tricky and surprising ways.
Amy Adams and Jake Gyllenhaal star in this superb second feature from the fashion designer turned film director – a pitch-black thriller to make you queasy with tension and regret."
Nocturnal Animals' is an impressively ambitious effort, one part mean Texas thriller, one part middle-age melodrama, and makes for a meta-textual riddle that is almost as pleasurable to reflect on as it to actually watch.
September 2016
Comments
3 Responses to Nocturnal Animals
March 21st, 2017 at 10:11AM by Catherine:


The music is absolutely stunning throughout Nocturnal Animals. Will you be releasing the piano sheet music for Table for Two?

March 4th, 2017 at 7:14PM by Beatrice:


Just watched "Nocturnal Animals" and all I had on my mind was to find out who this incredibly talented composer was. I wanted the movie to not end as I wanted to continue listening to the score. The composer combined sensitivity and delicacy into a beautiful melody that soothed me after the emotionally disturbing scenes of the movie passed. The movie is visually gorgeous and the music complements it perfectly. Beautiful music like this is true witness that humanity has a higher purpose in this world.
Thank you!

November 20th, 2016 at 12:48PM by Dorota:


I just saw the film Nocturnal Animals and was the last person to leave the auditorium, listening up to the last note of the film's music. Only after some research I found the composer of this outstandingly beautiful and emotional score. Good luck for the Oscars!
Reply