Escape From Tomorrow OST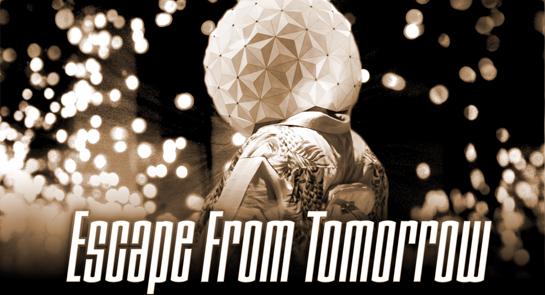 The original motion picture score for Randy Moore's surreal dark fantasy Escape From Tomorrow is available worldwide as a download album.
A deeply impressionistic yet sweepingly romantic musical snapshot of the pulse and passion of the Magic Kingdom, this collection of unapologetically old-fashioned cues harks back to the style of such Golden Era Hollywood composers as Hugo Friedhofer and Fred Steiner, as well as later keepers of the flame like Jerry Goldsmith and John Williams. Wringing buckets of melodramatic inflection from his energetic orchestrations in tracks like "Gates of Tomorrow" and "Magic Kingdom," Korzeniowski plunges the audiences into a swirling vortex of irony, setting them up for the psychological disconnect to ensue – brilliantly captured in the unexpectedly dissonant and minimalistic electronic tracks "Lost in Caves" and "Mystery Man".


Critics about the score
The music is almost uniformly magnificent, with an emphasis on soaring, emotional and inspiring themes in the grandest old Hollywood tradition.
A score of unlikely grandeur.
Large, fully orchestral, and quite brilliant. One of the things I love about Korzeniowski's music – and this is absolutely intended to be a compliment – is how unashamedly old-school it is. He's themes, variations and soaring melodies sort of composer that you don't get very often these days, cut from the mould of composers like John Barry and Georges Delerue, but who isn't afraid to augment his style and classicism with contemporary compositional techniques and subtle electronic enhancements when the film requires it. Escape from Tomorrow is a score which embraces all these styles, in a tremendously enjoyable fashion.
The original score is big and bold in a 1950s Technicolor fashion.

— Film.com

January 2013
Comments
One Response to Escape From Tomorrow OST
December 1st, 2014 at 9:57AM by James:


I love the score. There's one recurring sequence that really sounds like a lounge version of "in a world of shit" by Eels, were they an influence?
Reply