Like a Virgin Waltz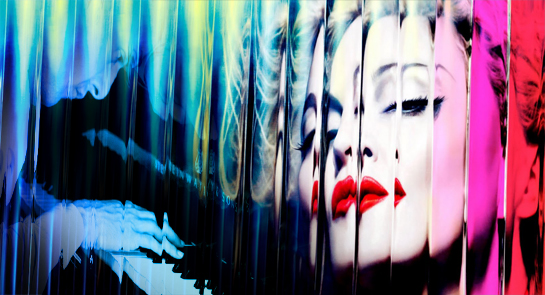 Breaking News: Madonna premiers a new version of her mega hit LIKE A VIRGIN reworked with Abel Korzeniowski's EVGENI'S WALTZ from W.E..
In an unprecedented move, Madonna combines one of the most defining songs of her career with an emotional, classical piano piece composed for her film about the Duke and Duchess of Windsor.
The new version's title is LIKE A VIRGIN WALTZ.
The concert in Tel Aviv on May 31 opens the 2012 MDNA world tour.

First Reviews
@MDNA Like A Virgin. With just piano accompaniment. This is the heart of the show!
In tears!!! I am. That Like A Virgin was breathtaking. Literally!
Indeed, the show's highlight was a dramatically slowed-down rendition of one of her biggest hits, "Like a Virgin," which Madonna delivered in waltz form while slinking on the floor, letting her voice fill the ginormous open-air space with the vitality of a singer at the top of her game.
One of the more effective moments was one of the simplest, when Madonna eschewed special-effects to deliver "Like a Virgin" as a dirge-like waltz.
The 'Like a Virgin' waltz, with totally different harmonies, had her in her sexiest, lowest register ever.
May 2012
Comments
3 Responses to Like a Virgin Waltz
July 9th, 2013 at 3:52PM by madness:


I love this version <3
But how and where I can get the sheets of this song?!

February 4th, 2013 at 11:22AM by Chen Chou:


It's really beautiful.

June 6th, 2012 at 5:24AM by Katya:


It was one of her best performances ever. What a brilliant idea to combine it! Whose idea it was, I wonder?
Reply