Penny Dreadful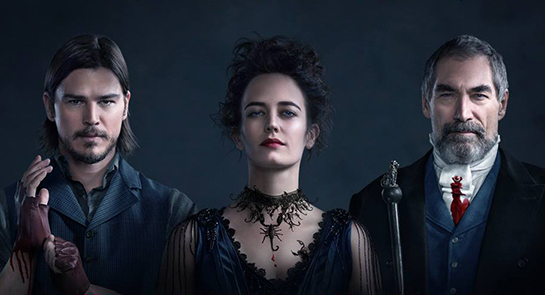 Some of literature's most terrifying characters, including Dr. Frankenstein, Dorian Gray, and iconic figures from the novel Dracula are lurking in the darkest corners of Victorian London. PENNY DREADFUL is a frightening psychological thriller that weaves together these classic horror origin stories into a new adult drama.


Critics about the score
Each and every one of the 29 tracks is a lovingly crafted work of art.
Fans of the composer will recognise his musical voice straightaway. Lush strings, whimsical piano lines, playful arpeggios… it's all here. (…) A mesmerizing work.
A musical soundscape unlike anything I have ever heard.
A new milestone achievement for the Polish composer. (…) The score is easily a top contender for best original score for Television – 9/10.
An excellent score by one of film music's rising stars. The clarity and precision of the writing, the perfectly judged Gothic atmosphere, and the interesting instrumental choices are all first class, and the whole thing contains the familiar sense of elegance and classicism that Korzeniowski has brought to every project in his career thus far.
This score is a horror masterpiece, it really is. The score is so vibrant, so beautiful and crushing. (…)
Geek Score: 100
Total Minutes Of Excellence: 72.8
Album Excellence: 100%
Buy or stream? Buy
a triumph of film/television scoring
beautiful and addictive
a brilliant accompaniment to the television series and a stunning piece of work in its own right
The vibrant sounds of this album are sure to please any fans of classical or soundtrack music, as well as anyone seeking to be unsettled with beauty, after all "to be beautiful is to be almost dead."
universally great (…) hats off

— io9.com

delightfully haunting score (…) Nothing short of pitch perfect.
pulse-poundingly intense, but hauntingly tender

— Pop Eye

dripping in atmosphere and personality, with lush strings and dissonant noises that manage to chill
Special acknowledgement should also go to Abel Korzeniowski, who provides an exceptionally fitting and wondrous score for the series.

— Fangoria

sumptuous
Owen McPolin's cinematography, Abel Korzeniowski' score, and everything else from the set direction to the casting, are top shelf here.

— Examiner

And my goodness how the music soars on this show, whether seductive or melancholy, it truly enriches the experience.
The music is gorgeous by the way, not relying on spidery harpsichords but beautiful swells of orchestration that build emotion and feed into the dialogue.
With a good soundtrack by noted composer Abel Korzeniowski (…) and gorgeous cinematography, PENNY DREADFUL is another example of how a lot of TV nowadays is slicker than a lot of films.
Great sets and dialogue, plus the haunting musical score.
The music is chilling and brings out every emotion between characters both simple and complex.
May 2014
Comments
52 Responses to Penny Dreadful
November 3rd, 2016 at 8:52AM by Thomas W Davis:


Just purchased the soundtrack of the first Penny Dreadful. Disappointed that the music from the "Blood Bath scene" was not included. This was the music I really wanted. Where can I find it or the name of the piece.

October 4th, 2016 at 9:09AM by Dan:


Hello!

Just looking for any available sheet music. I'm teaching myself to play piano/strings from various composers of epic soundtracks like Abel Korzeniowski, Hans Zimmer, Jeremy Zuckerman, Yasuharu Takanashi, Bear McCreary.

THANKS! :-D
Reply