Penny Dreadful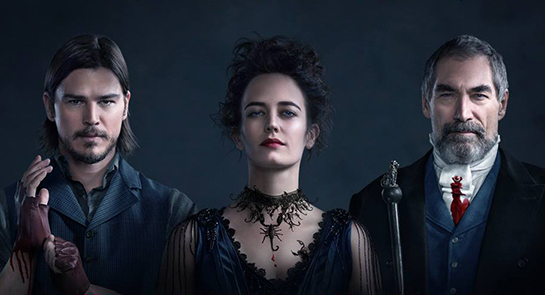 Some of literature's most terrifying characters, including Dr. Frankenstein, Dorian Gray, and iconic figures from the novel Dracula are lurking in the darkest corners of Victorian London. PENNY DREADFUL is a frightening psychological thriller that weaves together these classic horror origin stories into a new adult drama.


Critics about the score
Each and every one of the 29 tracks is a lovingly crafted work of art.
Fans of the composer will recognise his musical voice straightaway. Lush strings, whimsical piano lines, playful arpeggios… it's all here. (…) A mesmerizing work.
A musical soundscape unlike anything I have ever heard.
A new milestone achievement for the Polish composer. (…) The score is easily a top contender for best original score for Television – 9/10.
An excellent score by one of film music's rising stars. The clarity and precision of the writing, the perfectly judged Gothic atmosphere, and the interesting instrumental choices are all first class, and the whole thing contains the familiar sense of elegance and classicism that Korzeniowski has brought to every project in his career thus far.
This score is a horror masterpiece, it really is. The score is so vibrant, so beautiful and crushing. (…)
Geek Score: 100
Total Minutes Of Excellence: 72.8
Album Excellence: 100%
Buy or stream? Buy
a triumph of film/television scoring
beautiful and addictive
a brilliant accompaniment to the television series and a stunning piece of work in its own right
The vibrant sounds of this album are sure to please any fans of classical or soundtrack music, as well as anyone seeking to be unsettled with beauty, after all "to be beautiful is to be almost dead."
universally great (…) hats off

— io9.com

delightfully haunting score (…) Nothing short of pitch perfect.
pulse-poundingly intense, but hauntingly tender

— Pop Eye

dripping in atmosphere and personality, with lush strings and dissonant noises that manage to chill
Special acknowledgement should also go to Abel Korzeniowski, who provides an exceptionally fitting and wondrous score for the series.

— Fangoria

sumptuous
Owen McPolin's cinematography, Abel Korzeniowski' score, and everything else from the set direction to the casting, are top shelf here.

— Examiner

And my goodness how the music soars on this show, whether seductive or melancholy, it truly enriches the experience.
The music is gorgeous by the way, not relying on spidery harpsichords but beautiful swells of orchestration that build emotion and feed into the dialogue.
With a good soundtrack by noted composer Abel Korzeniowski (…) and gorgeous cinematography, PENNY DREADFUL is another example of how a lot of TV nowadays is slicker than a lot of films.
Great sets and dialogue, plus the haunting musical score.
The music is chilling and brings out every emotion between characters both simple and complex.
May 2014
Comments
50 Responses to Penny Dreadful
September 4th, 2016 at 1:34PM by Carrie:


I literally replay the opening credits of Penny Dreadful repeatedly because the theme is so gorgeous. I usually skip over credits. I like to pretend it's the soundtrack to my life.

July 29th, 2016 at 8:04AM by Larissa:


Will there be more Penny Dreadful soundtracks? There is only one available at the moment but there is lots more music from seasons 2 and 3! Please more soundtracks! Your music is magnificent!

May 31st, 2016 at 3:03PM by Luis:


Such a talented composer, that I feel is not getting the jobs he deserves. Also, whomever is in charge of the website, a "0" for you sir. Horribly updated, with very old information and not giving a $#&!t about the fans.

May 14th, 2016 at 9:30AM by szncor:


You have a great talent but can't you answer questions from your fans? I too would like to know when "Melting Waltz" will be available for purchase. Simple question. Can you not answer it?

May 10th, 2016 at 4:48AM by Alex:


Sir, literally, can't wait for Melting Waltz to be aired, it is just amazing,can we find it soon?

May 6th, 2016 at 12:12AM by hs:


Season 3 just started last week and episode 1's soundtrack was refresh and beautiful. I'm looking forward to listening the soundtrack of the rest episodes. Even music gets better and better in this TV Show. Hope season 2's soundtrack get released soon.

March 27th, 2016 at 9:40PM by GSD:


If there are no plans for a release of the season 2 soundtrack, can't you at least put out a few tracks including the waltz for Dorian and Lilly on your website for us to enjoy? Some of us are having to listen to it from the videos on youtube and it would be lovely to enjoy the beautiful music you've created.

March 18th, 2016 at 12:52AM by Ash:


I absolutely love the melting waltz, I want that song to play at my wedding, when will the soundtrack be released?

March 8th, 2016 at 3:59AM by karol:


So what's up with not telling the public about the release date of S02 music? Able, why do you hate your fans?? :)))))

March 7th, 2016 at 4:37AM by lalaland:


Ever since the end of Penny Dreadful S02 I've been dying to purchase its heart-wrenchingly beautiful score – now S03 will start in less than a month and still nothing about the S02 music! Will it be out in a few or am I stuck with this longing permanently? Please say something?

February 18th, 2016 at 3:05PM by jbev:


I cannot wait for the Season 2 soundtrack to be released. It's just marvelous. Why is it taking so long? Will there be a release at all?

February 5th, 2016 at 5:58AM by Carlos:


I just have two words for this Amazing and beautiful.

January 16th, 2016 at 4:19PM by Jeff:


I absolutely loved the score for Season 2, and felt it added tremendously to the program. I do hope a CD or digital release is coming in the future!

January 12th, 2016 at 1:58PM by Markus:


Why is the "Penny Dreadful" Soundtrack no longer available via Spotify, Google Music, Apple Music and even Amazon?
I think the Penny Dreadful OST is one of the best fantasy series soundtracks in a long time.

September 18th, 2015 at 6:10AM by Jamal:


Hello Mr. Korzeniowski

Could you please let me know when your season 2 penny dreadful soundtrack comes out?

I've been dying to get my hands on it. Your music and composition is extremely serene and hard-hitting. Looking forward to your continued brilliant work and congratulations on the Emmy noms.

Regards

August 16th, 2015 at 5:44PM by AK:


No plans yet.

August 16th, 2015 at 3:56PM by Jose:


Has the orchestral (or a piano reduction) of the score been released?

August 1st, 2015 at 4:28AM by Amdrew:


Marvellous stuff. Which Orchestra played the theme? Or was it session musicians?

July 27th, 2015 at 3:25AM by Shivangi:


Where can I buy the soundtrack for the second season ? Is it out yet ?
I've been dying to get my hands on it but can't seem to find it anywhere :(

July 22nd, 2015 at 2:49PM by Marjorie Wharmby:


such a beautiful artist and composer. So thankful for this beauty!

July 22nd, 2015 at 2:24PM by Marjorie Wharmby:


I cannot get enough of this wonderful music. I know my soundtracks going back to Elmer Bernstein…and as a dancer (no so much now) but this music is tender, evocative, turbulent, and any other mood required of the scene. Saying what is well realized already, Abel Korzeniowski is a wonderful composer and I continue on each episode of Penny Dreadful to enjoy his music, focus in on it, and enjoy how well it accompanies each and every scene. Thank you.

July 21st, 2015 at 11:12AM by doraemon:


what a good soundtracks. Just listening reminds me of the story and characters. and Even only music makes me moved, frightened, and exciting.

June 19th, 2015 at 12:41PM by Joost Boerstoel:


I would love the opportunity to learn and play the opening score on cello, so strong and evocative a piece this is. If you would ever consider releasing the score in sheet music, I would be very thankful, indeed.

Kindest regards,
Joost

June 14th, 2015 at 11:16AM by Cecilia:


This soundtrack is amazing and very atmospheric! Will the sheet music be released any time soon?

June 12th, 2015 at 5:20AM by judithsmith007:


The Walzer is my favorite (2×06)! The great composers are among us now.The Eastern European soul it makes music.

February 12th, 2015 at 3:43PM by Sergi:


Truly beautiful

August 20th, 2014 at 11:31AM by may:


What is the the name of the music/song played on episode 2 during dorian grey and brona sex scene…?

August 20th, 2014 at 11:30AM by may:


What is the the name of the music/song played on episode 2 during dorian grey and brona sex scene?

July 18th, 2014 at 10:28PM by Melanie:


A soundtrack!!! I am begging you, please put out a soundtrack!

July 18th, 2014 at 7:13AM by Howard Tate:


GREAT NEWS!!!!!!! AUG 17th
http://www.amazon.com/Penny-Dreadful-Abel-Korzeniowski/dp/B00LR1YTT4/ref=sr_1_2?ie=UTF8&qid=1405696335&sr=8-2&keywords=penny+dreadful+soundtrack

July 6th, 2014 at 5:29PM by Julia:


Please release the soundtrack soon, it's brilliant!!

July 1st, 2014 at 2:37PM by Eris Acolyte:


Just wanted to tell you how much I love the Penny Dreadful theme. I close my eyes in sheer bliss every time those violins hit.

June 30th, 2014 at 8:56PM by Cappy:


Love this soundtrack. Hope it is released soon! I could use some haunting music in my library.

June 30th, 2014 at 3:52PM by Gonzalo Navas:


I´ve just finished first season and WOW, what a moving soundtrack… when is it going to be released?

June 30th, 2014 at 10:27AM by Stacey:


The soundtrack is so beautiful an moving. Adds to the scenes so perfectly. I hope a soundtrack will be released soon!

June 28th, 2014 at 10:57AM by Alexandra Mitchell:


Absolutely stunning soundtrack….. So beautiful and poignant, I have been moved to tears…. Penny Dreadful is a spectacular blend of visuals and soundtrack…. You feel these characters…. It is a very affecting experience….. Magical and Oscar worthy, despite being a small screen series.

June 25th, 2014 at 7:02PM by Candace:


Wonderful soundtrack. I have quite enjoyed it and would love to purchase it! :)

June 18th, 2014 at 6:41AM by yumus:


Hello any one knows what is the music playing background when mr grey and ives looking portraits?

June 13th, 2014 at 1:57PM by ben:


PLEASE release this soundtrack! It is breathtakingly beautiful.

June 9th, 2014 at 8:05PM by John:


Brilliant score. From opening credits to melancholy and subtle foreshadowing, this is exquisite and powerful composition. Combined with its outstanding set design, solid casting, and Logan's screenplay, this show is lush and gripping. Bravo. Bravo.

May 29th, 2014 at 2:10AM by karan:


I love it when Proteus gets to go outside for the first time and the music score in the background is simply fantastic

May 28th, 2014 at 10:59AM by goodguy9544:


This is what television was meant to become. I am breathless. Inspired. I inhale the imagery and exhale the enchanting sounds. More, more…

May 26th, 2014 at 11:22AM by Steve:


WHEN WILL THE SOUNDTRACK BE RELEASED?!!?!!

May 26th, 2014 at 6:18AM by Kathy:


The Penny Dreadful soundtrack is so beautiful. I can't wait for it to be released

May 25th, 2014 at 7:44PM by Siavash:


Great soundtrack! Well done, sir.

May 19th, 2014 at 4:54PM by Hugh:


Melancholy…

May 19th, 2014 at 4:52PM by Hugh:


With the good and evil comes the bitter and the sweet. The beautiful and sad musical score is an imaginative journey through the light and the dark. Abel Korzeniowski has done a marvelous job in pairing these opposites wonderously throughout the storyline of "Penny Dreadful". The knowledge that something wicked this way comes is only buffeted by the elegance and subtle introductions that his score provides in leaps and bounds! Truly marvelous and I hope to have a copy of this work soon!

May 19th, 2014 at 12:31PM by Claire:


When will the score be released?

May 18th, 2014 at 10:40AM by Candice:


The soundtrack to Penny Dreadful is wonderful and fitting to the show. I am also looking forward to the release of the show's soundtrack.

May 15th, 2014 at 4:00PM by Carlos Teran:


Penny Dreadful's soundtrack is distinctive, unique and timeless. Congratulations for such unforgettable sound-scape. Looking forward for the release of the show's album.
Reply