Kaas Chante Piaf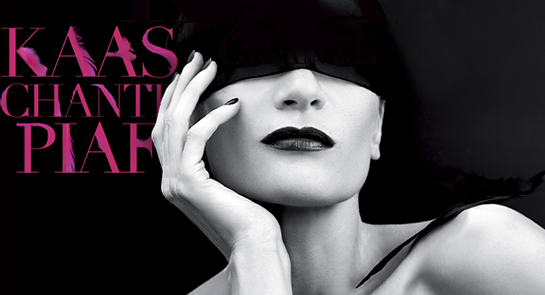 Arranged, conducted and produced by Abel Korzeniowski, Patricia Kaas's new record album is a tribute to Edith Piaf, one of the finest performing artists of the 20th century.
21 of her greatest hits were reimagined to commemorate the 50th anniversary of Piaf's death. The songs were recorded with the Royal Philharmonic Orchestra in AIR Studios in London, in June 2012.
The live concert tour will be hosted by some of the world's most prestigious venues including the Royal Albert Hall in London, Carnegie Hall in New-York and Olympia in Paris.
Kaas Chante Piaf also includes SONG FOR THE LITTLE SPARROW – Abel Korzeniowski's original, instrumental piece, written in homage to Piaf. (listen to a preview on the right)

Track List
01. Mon dieu
02. Padam, padam
03. Avec ce soleil
04. Milord
05. The 9th Hour (Prélude)
06. La belle histoire d'amour
07. Les amants merveilleux
08. T'es beau tu sais
09. Hymne à l'amour
10. C'est un gars
11. Song for the Little Sparrow (Ouverture)
12. La foule
13. Mon manège à moi
14. La vie en rose
15. Non, je ne regrette rien
16. Je t'ai dans la peau

Tour Schedule
Oct. 31, 2012 – France – Argenteuil – Centre Culturel Le Figuier
Nov. 05, 2012 – Uk – London – Royal Albert Hall
Nov. 13, 2012 – Germany – Berlin – Admiralspalast – Theater
Nov. 15, 2012 – France – Paris – Le Trianon
Nov. 20, 2012 – Usa – New York City – Carnegie Hall
Nov. 22, 2012 – Canada – Montreal – L'olympia
Nov. 25, 2012 – Switzerland – Geneva – Victoria Hall
Nov. 26, 2012 – Belgium – Brussel – Psk-Pba Zaal-Salle O
Nov. 27, 2012 – Holland – Amsterdam – Koninklijk Theater Carre
Dec. 02, 2012 – South Korea – Seoul – Sejong Cultural Center
Dec. 03, 2012 – South Korea – Seoul – Sejong Cultural Center
Dec. 07, 2012 – Russia – Moscow – Opereta
Dec. 09, 2012 – Ukraine – Kiev – Opera
Feb. 06, 2013 – France – Chalons En Champagne – Le Capitole Zenith
Feb. 08, 2013 – France – Sausheim – Espace Dollfus Et Noack
Feb. 09, 2013 – Switzerland – Montreux – Auditorium Stravinski
Feb. 10, 2013 – France – Gap – Le Quattro
Feb. 12, 2013 – France – Marseille – Le Dome
Feb. 13, 2013 – France – Aix En Provence – Le Pasino
Feb. 15, 2013 – Switzerland – Luzern – Kkl
Feb. 16, 2013 – Switzerland – Zurich – Kongresshaus
Feb. 19, 2013 – France – La Grande Motte – Pasino
Feb. 20, 2013 – France – Toulouse – Zenith – France
Feb. 22, 2013 – France – Saint Etienne – Zenith
Feb. 23, 2013 – France – Dole – La Commanderie
Feb. 26, 2013 – France – Paris – Olympia
Feb. 27, 2013 – France – Paris – Olympia
Feb. 28, 2013 – France – Paris – Olympia
Mar. 01, 2013 – France – Paris – Olympia
Mar. 02, 2013 – France – Paris – Olympia
Mar. 05, 2013 – France – Orleans – Zenith
Mar. 06, 2013 – France – Lille – Zenith
Mar. 08, 2013 – Germany – Frankfurt – Alte Oper
Mar. 09, 2013 – Austria – Wien – Wiener Konzerthaus
Mar. 12, 2013 – France – Rouen – Zenith
Mar. 13, 2013 – France – Caen – Zenith
Mar. 15, 2013 – Germany – Mannheim – Rosengarten Mozartsaal
Mar. 16, 2013 – Belgium – Charleroi – Palais Des Beaux Arts
Mar. 17, 2013 – Belgium – Liege – Le Forum
Mar. 20, 2013 – France – Nantes – Zenith
Mar. 22, 2013 – France – Rennes – Le Liberte
Mar. 23, 2013 – France – Bordeaux – Patinoire Meriadeck
Mar. 26, 2013 – France – Tours – Le Vinci – France
Mar. 30, 2013 – France – Lyon – Halle Tony Garnier
Apr. 02, 2013 – France – Dijon – Zenith
Apr. 03, 2013 – France – Nancy – Zenith
Apr. 05, 2013 – France – Strasbourg – Zenith
Apr. 06, 2013 – France – Amneville Metz – Galaxie
Apr. 08, 2013 – Germany – Hamburg – Laeiszhalle Hamburg, Groãÿer Saal
Apr. 09, 2013 – Germany – Dusseldorf – Mitsubishi Electric Halle
Apr. 11, 2013 – Germany – Munich – Philharmonie Im Gasteig
Apr. 13, 2013 – Germany – Stuttgart – Liederhalle Beethovensaal
Apr. 14, 2013 – Germany – Nuremberg – Meistersingerhalle
Apr. 16, 2013 – Germany – Baden Baden – Festspielhaus
Apr. 19, 2013 – Belgium – Oostende – Kursaal
Apr. 23, 2013 – Poland – Warsaw – Sala Kongresowa
Apr. 24, 2013 – Poland – Wroclaw – Hala Stulecia (Ludowa)
Apr. 26, 2013 – Lithuania – Kaunas – Arena
Apr. 27, 2013 – Lithuania – Riga – Arena
October 2012
Comments
5 Responses to Kaas Chante Piaf
April 15th, 2013 at 5:19AM by Jarek:


Uwielbiam Patricie Kass i Piaf – już nie mogę się doczekać koncertu w Warszawie. Bedzie to prezent dla mojej ukochanej żony na 20-lecie małżeństwa – nie śledzę pana kariery i gdyby nie ta płyta pewnie bym sam tu nie zajrzał – chciałbym jednak podziękować za wspaniałe aranże jest mi miło że z moimi ulubionymi piosenkarkami będę mógł kojarzyć Pana Nazwisko i chwalić się tym wśród moich znajomych we Francji.

November 13th, 2012 at 4:58AM by ania witczk:


drogi Ablu. Dziekuje za Twojna niesamowita muzyke.Dziekuje za Metropolis. Pozdawiam Twoja zone. I zycze wszystkiego dobrego.
Ania Witczak-Czerniawska ( nowe nazwisko, bo wyszlam za maz ).
ps. no i oczywiscie byloby cudnie spotkac sie znow.

November 11th, 2012 at 7:57AM by Johanna Ouwerling:


Dear Abel,
The arrangements for Kaas chante Piaf are fantastic! You truly are a genius. I love the songs very much. The atmosphere they create is magical. From time to time it reminds me of the Harry Potter movies, which I also love very much.
Thanks again for all of this and good luck with everything you do!
Johanna xx
http://www.patriciakaas.nl/blog

November 10th, 2012 at 3:08AM by Nico:


A real good work, a pleasure for our ears. Nico, http://www.patriciakaas-online.fr

November 4th, 2012 at 9:05AM by amir bazargani:


Magnifique :X Love u Abel …
Reply